Thing and things from NYC this time round…
******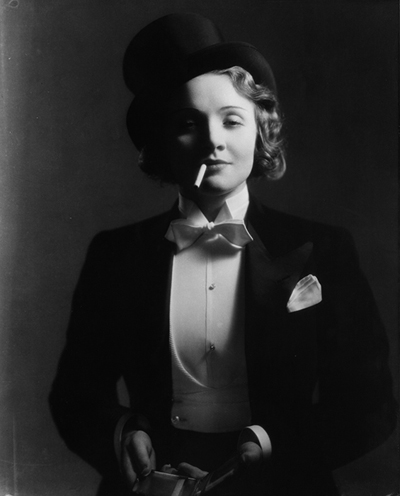 The Fashion Institute of Technology's Queer History of Fashion essentially boiled down to 'a collection of outfits' because, let's face it, most fashion designers are massive queers anyway. There weren't enough bitchy anecdotes or critical insights to warrant putting all these clothes together in one room…though of course lots of them were fabulous especially Marlene Dietrich's evening suits. I recommend this exhibition primarily for the kicks to be had observing its patrons: gays of all stripes (some in stripes), gays everywhere.
J. Crew had 25% off thanks to Columbus Day – shout out to Chris for my discounted cashmere jumper!

I found beaten up copies of Delicious Inc. and Dub.E.Us in the $2 bins at A-1 Records, by far the best record shop in the city, though this came at the unexpected supplementary price of having to listen to a man talk for about 2 hours straight about not very much to anyone who would listen. Turns out he didn't even work there. I also picked up a pretty bad Mosaic record which isn't even worth very much…yet.
******

Riding the Coney Island Cyclone is something my 12-year-old self would have been over the moon about, and gladly my 27-year-old self was pretty over the moon about it too. Coney Island is over an hour away on the subway but when the weather is good (it was exceptional), the subway is cheap (it was unlimited) and time is plentiful (it was there to be spent), why miss the opportunity to eat a nasty hotdog, get attacked by seagulls, go on a legendary rollercoaster and take on the biggest Mr Whippy imaginable? That was my attitude anyway and it paid off massively.
The Brooklyn Museum is currently home to Emily Dickinson's super frilly vagina (plate) in Judy Chicago's The Dinner Party. When taken in combination with Wangechi Mutu's decidedly unfrilly creations the effect is pretty disorientating.
Having now visited The Thing I feel qualified to say it's not really worth the visit, unless for some unknown reason you want to aggravate whatever pre-existing respiratory/skin/eye conditions you're unfortunate enough to suffer from. A-1 is a record store; The Thing is a pit – literally – the illusive potential of which was apparent from the copy of Donna Summer's The Four Seasons Of Love staring at me immediately on completing my descent. But that proved to be the highlight of an otherwise unedifying series of shoulder and back exercises shifting piles of shite records in one direction in order to access more piles of shite records. All I ended up buying was a book by Colette, which I have been very pleased with, but isn't particularly compatible with a turntable.
Similarly, the new Academy Records – recently relocated from Williamsburg to Greenpoint – is slim pickings for someone like me who's not really looking for LPs, though I did get a cheap Akufen 12″.

Prior to that endeavour I was sensible enough to refuel at Paulie Gee's, the man himself there to ask me how my 'In Ricotta Da Vita' and Sixpoint Bengali Tiger Pale Ale were going down. Very well was the answer, and the one-two combination of the meal and a short turn around the nearby riverside park – with stunning sunset view – was a highlight of the trip.
******
We braved opening day at PS1 for two reasons: lunch at M. Wells and a Motörhead-soundtracked dance performance to open the new exhibition. The former was a success – smoked chicken in tomato sauce, the leg excitingly with claw, grasping, still attached – and the latter proved entertaining if only because i'd never listened to Motörhead before. Sadly the exhibition itself was a load of bollocks.
******
The next day's adventure was a trip to see an installation in the Fuentidueña Chapel at the Metropolitan Museum's Cloisters, far up on the West side of the city. This is absolutely wonderful and if I lived in New York I would be tempted to go back again. Not only was the music and setup itself fascinating, but there was also the thrill of seeing up to a hundred people all stop simultaneously and listen, in most cases quite wide-eyed, for the full length of the piece.
We coupled this with a visit to the Cathedral of St John the Divine, which was probably the most impressive building I have seen in my whole life. I spent what seemed like 10 minutes just walking down the nave, gawping up at a ceiling that reminded me (rather embarrassingly) of those scenes with the Balrog in Lord of the Rings. The central dome is so high and dark you can't see the ceiling, and, standing in the aisle to the side of the choir looking back to the extraordinarily large circular stained glass window over the entrance, you could be forgiven for thinking yourself on a spaceship. Add to this the disco light effect of the late afternoon sun on the interior stonework and you have yourself a real experience of a building, and to me what could have felt somehow shameless (and shamelessly American) in size and attitude instead felt quietly profound, which is of course the way it should be. Shout out to the bats 'peace fountain' out the front too.
There was still time for a quick visit to the rooftop of my sister's office with a brilliant view south over Central Park towards the skyline of downtown Manhattan at sunset. I still haven't been up the Empire State Building, but now I think it's even less necessary than before.
******

By this point I was flagging a bit, as you might expect, but there was still time in my final couple of days for a quick visit to the Met to see some textiles, and a return to the Frick Collection, which has to be my favourite gallery if only because it's sore-feet-friendly and has one of my favourite paintings in it. The Socrates Sculpture Park and Noguchi Museum in Queens were also worth visiting, the latter especially due to its current exhibition of line drawings and ink paintings. The Museum Of The Moving Image permanent exhibition is also very good value.

Evelyn treated me to great seats at the Booth Theatre to see The Glass Menagerie, which turned out to be happy-sad in the best sort of way. As someone who doesn't go to the theatre very often at all, it's difficult for me to wrap my head around all the things about it I did and didn't like, but I think it's this post-experience consideration that adds up to getting your money's worth, and I'm still not done thinking about it.
******
Chicken McNuggets in New York are not the same as in London though – less crunchy, not as nice – which is a shame since they come in packs of 10 instead of 6 as standard.
---